The John Deere LT166 and LTR166 (rear discharge) lawn tractor was manufactured from 1998 to 2001.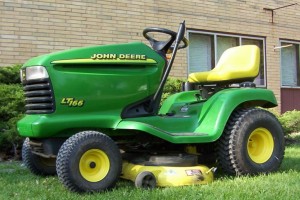 The mower was equipped with a Briggs & Stratton 16HP air cooled, 2 cylinder gasoline engine.
Electrical system is 12 volts, oil capacity 1.6 quarts and fuel capacity 2 gallons.
The transmission is a Tuff-Torq K51 hydrostatic controlled by two right-side foot pedals.
The available mower deck sizes were 38, 42 and 48 inches.  John Deere also made a 42 inch front blade model 4291M with a manual lift.
[phpbay keywords="LT166″ num="10″ siteid="1″ sortorder="BestMatch" sellerid="usedjdmowerparts" templatename="default" itemsperpage="10″ paging="true"]